Two Case Managers Have Been Hired to Work to Keep People and Pets Together in Kansas City
Kansas City, MO, March 17, 2021 – KC Pet Project is excited to announce the addition of two case managers at their organization, thanks to a generous grant from Maddie's Fund®, a national foundation established by Dave and Cheryl Duffield to revolutionize the status and well-being of companion animals. Natalie Howard and Maddie Musil joined the team as part of the Pet Support Center at KC Pet Project to provide connections to more human social services resources for the Keep 'Em Together, KC program.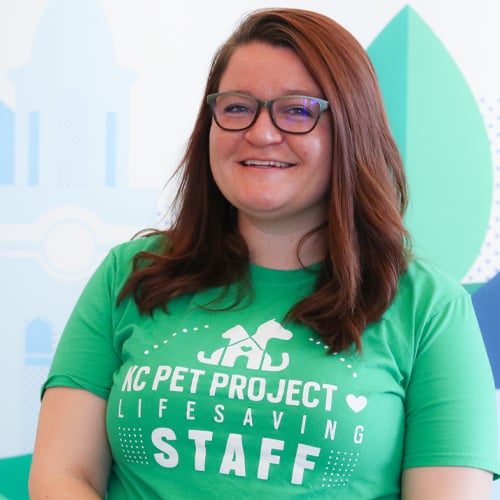 Natalie Howard comes to KC Pet Project from the Wyandotte Behavioral Health Network where she assisted youth and families in reaching and maintaining treatment plan goals and finding community resources to help better clients' lives while working with outside agencies or community supporters to assist clients.
Maddie Musil received her Master of Social Work degree from the University of Kansas and has spent her career in the social services field connecting people to resources within the community. She most recently worked as an Education and Outreach Specialist with the Metropolitan Organization to Counter Sexual Assault (MOCSA), providing sexual violence awareness programming to K-12 youth and working on their crisis line.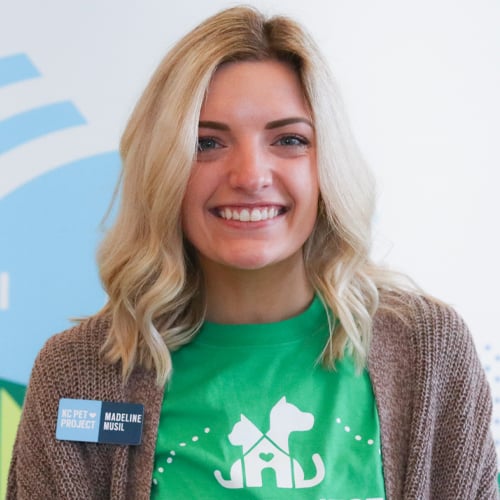 "Having social work case managers on our staff elevates and expands our ability to provide sustainable, long-term solutions for pet owners in crisis," said Teresa Johnson, KC Pet Project's President/CEO. "Utilizing a case management approach through trained professionals will help keep more pets in their homes with their owners. We use a Whole Family approach – our goal is to bridge the gaps between pet owners in need and services available for both pets and people in Kansas City. Pets are essential members of our families and no one should have to give up a beloved pet in a time of crisis due to a lack of resources." KC Pet Project's Case Managers will work with pet owners facing eviction, loss of housing, financial hardships, domestic violence, and medical emergencies.
Both Maddie and Natalie are excited to bring their knowledge and experience to KC Pet Project in this important program, combining their love of working with animals and helping people. Through empathy and support, KC Pet Project hopes to expand their programs and services this year.
Helping people and their pets stay together is a major focus for KC Pet Project in 2021. As part of the Keep 'Em Together, KC program, the Keep 'Em Together Case Managers will be assisting with the following initiatives:
Home Away from Home Crisis Boarding Program
Rehoming Support for pet owners
Collaborative efforts with community organizations working within the social service fields, and
Implementing programs and services to support the Whole Family model
With the addition of experienced, dynamic, and driven Keep 'Em Together Case Managers to help lead the success of this these new programs, the organization is focused on building community partnerships and expanding supportive services to help keep pets in their homes with their families.
KC Pet Project received this special grant opportunity as a Tier 1 Human Animal Support Services pilot shelter from Maddie's Fund. The family foundation recently granted $950,000 to support 19 U.S. Communities implementing the Human Animal Support Services Pilot Project. Pilot animal shelters are engaging their community members to be active participants in animal welfare, while creating and expanding programs and services to provide support to families. These programs and services, such as returning lost pets to their owners, short and long-term foster solutions, supporting families with the rehoming of a pet for any reason, addressing equity and inclusion, and supplying food and medical services, are allowing more people and pets to stay together.
About KC Pet Project: KC Pet Project is a 501c3 nonprofit organization that operates the Kansas City Campus for Animal Care, as well as Pet Adoption Centers in the Zona Rosa shopping center and Petco in Overland Park, KS. We care for more than 10,000 animals a year and are a national leader in the animal welfare industry. Through our Animal Services Division, Pet Support Center, lifesaving programs, and 14 locations to adopt in the metro area, KC Pet Project is passionate about creating a caring, safe, and humane community for the people and pets of Kansas City and the surrounding region.
KC Pet Project is a proud pilot shelter of Human Animal Support Services (HASS) that is reimagining animal sheltering to build programs and support to keep people and their pets together and empower communities.
About Maddie's Fund.: Maddie's Fund® is a family foundation established in 1994 by Dave and Cheryl Duffield and is the fulfillment of a promise to an inspirational dog, Maddie. She provided them much joy from 1987 – 1997 and continues to inspire them today.
The Foundation has awarded nearly $250 million in grants toward increased community lifesaving, pioneering shelter medicine education and establishing foster care as a standard across the U.S.
Maddie's Fund proudly offers the industry a national voice, important funding opportunities for bold ideas, learning resources and access to collaborate and share lifesaving ideas. The Foundation invests its resources in a commitment to keeping pets and people together, creating a safety net of care for animals in need and operating within a culture of inclusiveness and humility. #ThanksToMaddie.