KC Pet Project can help you find the right home for your pet through our supported rehoming services.
When rehoming your pet, it is important to be thorough and patient. Finding the right home takes time but being thorough and patient in your search for the perfect home is worth the wait for both you and your pet. Investing time into the rehoming process increases your chance of successfully placing your pet in a loving home that is not only a great fit, but a safe place for your pet.
We have several great resources to help support you in rehoming your pet. If you ever have questions, we are here to help and only a phone call or an email away. Check out these rehoming resources to help you in the rehoming process:
If you need to discuss relinquishing and surrendering your pet directly to KC Pet Project, please visit Pet Relinquishment for more information.
Rehome with Rehome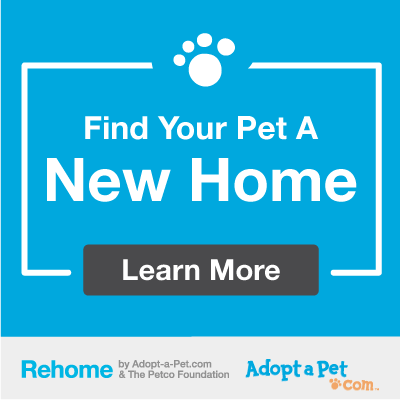 You can promote your pet online using our free online Rehome platform! Rehome can help you manage your pet's adoption and safely find a new home for your pet. All you need to do is to set up your pet's profile which takes less than ten minutes. Once complete, your pet's profile will be posted on Adopt-a-Pet.com and will be seen by millions of visitors each month!
After you have created your listing with us, we also recommend adding your pet to Rehome by Adopt-a-Pet.com & The Petco Foundation  for additional exposure through this national search site.