We need your help TODAY at KC Pet Project. With 84 new pets in yesterday, we now have 1,209 pets in our system currently between all of our adoption locations and in foster homes. With only 3 open kennels in the entire building this morning and the potential of another intake day with 50+ new pets coming in, we are beyond capacity at this point.
How can you help?
Foster
We need more foster homes to help us care for the pets that are in our shelter. Kittens, puppies, adult dogs, and adult cats can all go into foster homes, and we need your help today. Get started and fill out our sign up form to help us save lives.
Adopt
We have hundreds of pets that are available for adoption at KC Pet Project across our 14 metro locations and in foster homes. View them all and sort by location, breed, age, and more.
---
If you find a lost pet, take these steps first before bringing them to the shelter:
Almost half of the pets that are reclaimed by their owners are found within a quarter mile of where they live. Taking these simple steps could help that pet go home faster instead of having to come to the shelter: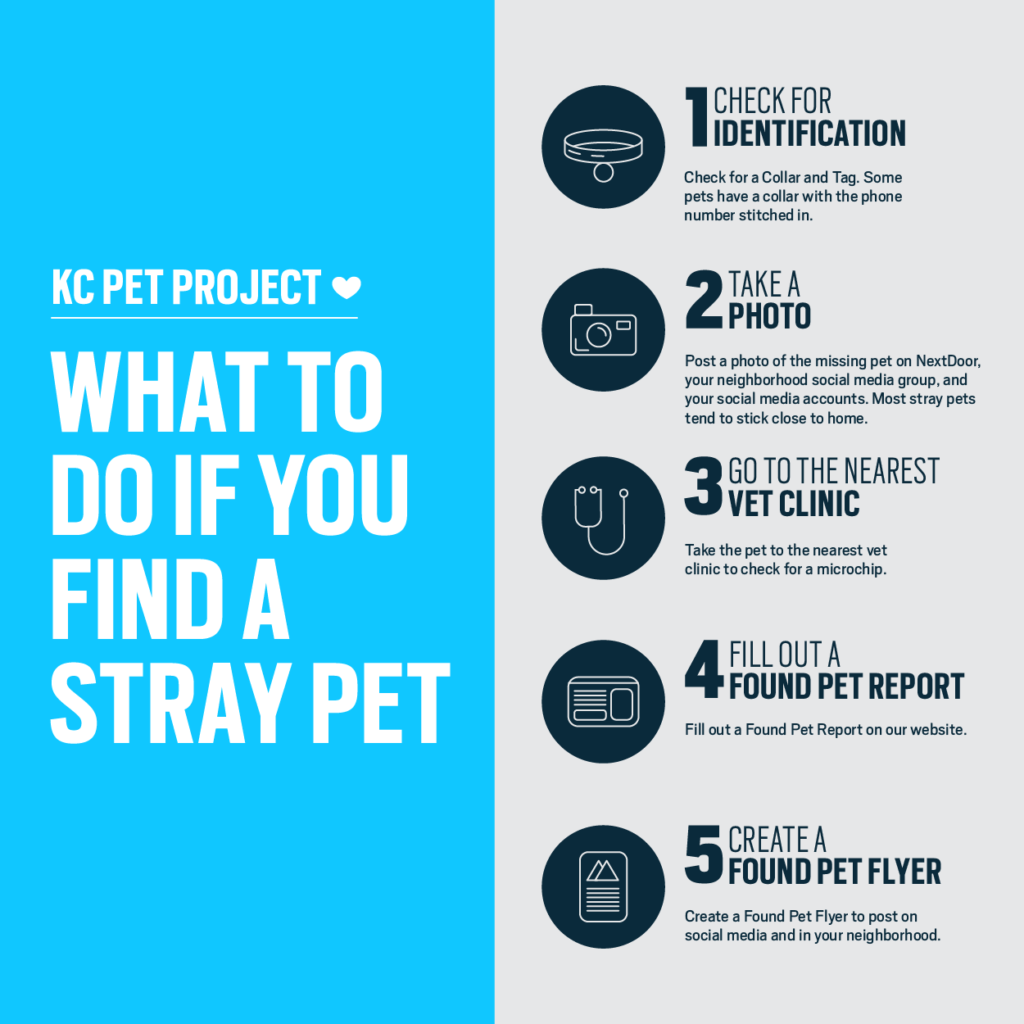 ---
Share Our Lost & Found Pets
All of our lost and found pets are posted on our website and we share them every day on our Lost and Found Facebook Page. Sharing these pets may help them get home faster!
---
Rehome Your Pet Through KC Pet Project
As an alternative to relinquishing your pet to KC Pet Project, you can now list your pet(s) on KC Pet Project's website if you are looking to rehome your animal(s).
You as the guardian of the animal are responsible for answering all adoption inquiries that you receive from interested families. KC Pet Project representatives are not responsible for any communication between the potential adopters and you the guardian. Our team is happy to answer any questions and provide guidance for how to best handle the adoption process of your pet, and we have an extensive list of resources available to you.
You can also adopt pets that are being rehomed by their current owners or guardians. Visit our Pets Being Rehomed adoption page to see current pets that are listed.
---
Donate
If you cannot foster or adopt, please consider a donation to help us care for the record number of pets that are coming to our shelter. We can't save lives in the community without your support!
You can also visit our shelter wish list and Amazon Wish List to see our most needed items.
---
Thank you for helping us save lives in Kansas City!