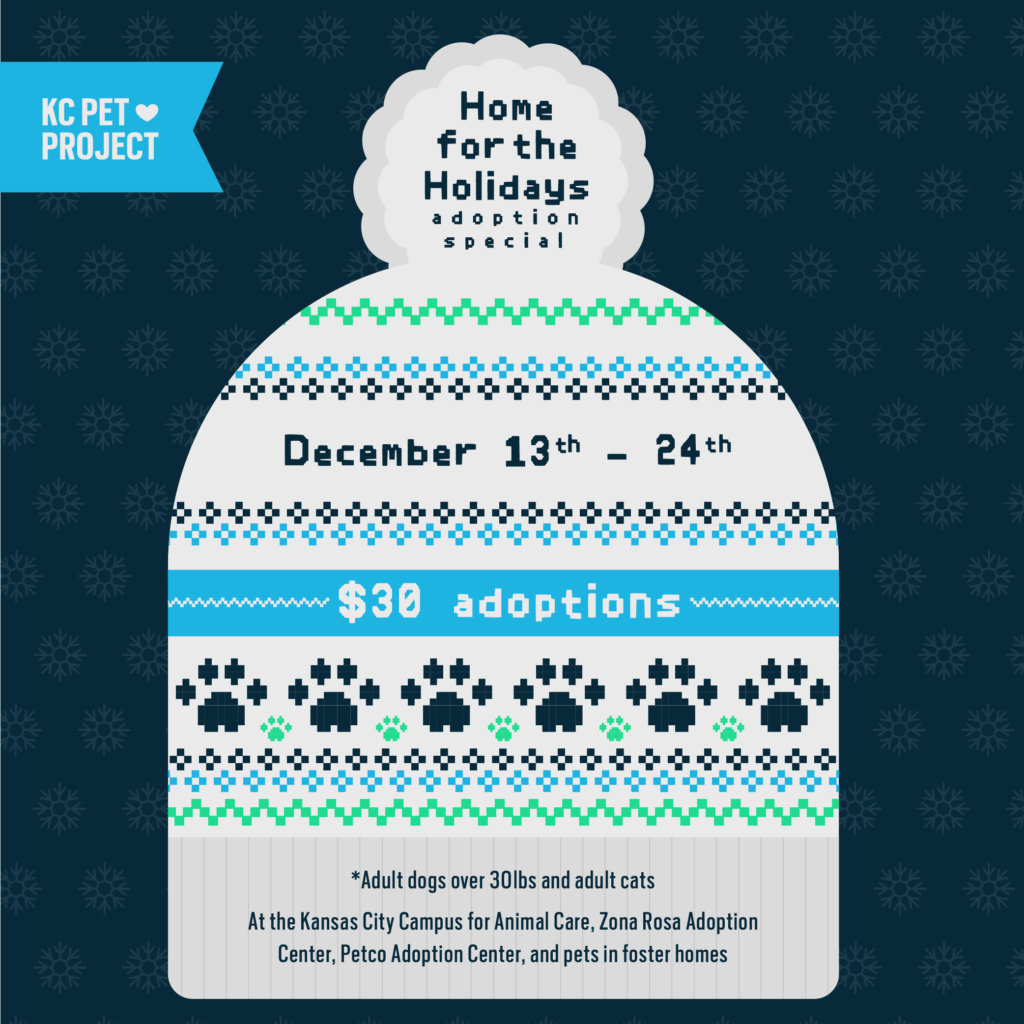 Kansas City, MO – KC Pet Project is excited to host their annual Home for the Holidays Adoption Special! From Monday, December 13th through Christmas Eve, all dogs 30 pounds or more and adult cats will be $30 at the KC Campus for Animal Care, Zona Rosa Adoption Center, and Petco Adoption Center on 95th Street (cats only at this location). Pets in foster homes qualify for this special as well. Get the ultimate gift of a new best friend this holiday season and help them clear out their shelter for the holiday. To view all the available pets at the shelter visit http://kcpetproject.org.
KC Pet Project will close early on Christmas Eve at 3:00 pm at all locations and will be closed for business on Christmas Day. Animal Services will be working on the holiday to respond to on-call emergency and priority calls.
If you are not in the market to adopt a new pet, you can still foster one over the holidays. With everyone at home, it's the perfect time to bring a pet into your home for a time. Fostering opportunities range from overnight and longer, and you can sign up today at http://kcpetproject.org/foster.
Fostering opportunities are also critically needed at this time to help care for owned pets of people who come to them in need of support to keep their pets. KC Pet Project continues to receive many applications for their Safety-Net Foster Emergency Foster Program, and they do not have enough homes for these pets to go to. When you foster with this program, you're giving an owner some valuable time to find placement for them and their pet or recover from a medical concern. KC Pet Project is keeping families together this holiday season.
KC Pet Project Holiday Giving and Gift Guide:
Gift a gift that gives back. There are so many ways to support the pets of KC Pet Project this holiday season which are featured in their Holiday Giving and Gift Guide. When you purchase items from KC Pet Project's locations at the KC Campus for Animal Care or Zona Rosa, you're supporting the pets of their shelter. They have many great gift ideas this year at a range of prices, and all purchases support the pets of the shelter. The retail store at the campus features a wide array of items for pet lovers and the pets in your life. There are also many items for sale on the shelter's online store.