2021 will be a historic year for us at KC Pet Project with more than 13,000 pets entering our shelter this year. With the holiday season starting, there are so many ways that you can give back to support our pets this year.
KC Pet Project Gift Guide
Gift a gift that gives back. When you purchase items from KC Pet Project's locations at the KC Campus for Animal Care or Zona Rosa, you're supporting the pets of our shelter. We have many great gift ideas this year at a range of prices, and all purchases support the pets of our shelter. The retail store at the campus features a wide array of items for pet lovers and the pets in your life.
KC Pet Project also has an online store with lots of great items for sale that would make wonderful gifts. Many of the items listed are not available in our retail store or at our locations.
We also have KC Pet Project gift cards available for purchase that can be redeemed at our KC Campus for Animal Care and Zona Rosa locations.
---
Home for the holidays adoption special
It's time for our annual Home for the Holidays Adoption Special! From Monday, December 13th through Christmas Eve, all dogs 30 pounds or more and adult cats will be $30 at our KC Campus for Animal Care and Zona Rosa Adoption Centers. Pets in foster homes qualify for this special as well. Get the ultimate gift of a new best friend this holiday season, and helps us clear out our shelter for the holiday. To view all of our adoptable pets, visit kcpetproject.org. Our locations will all close early on Christmas Eve at 3:00pm and will be closed for business on Christmas Day.
---
Holiday Hours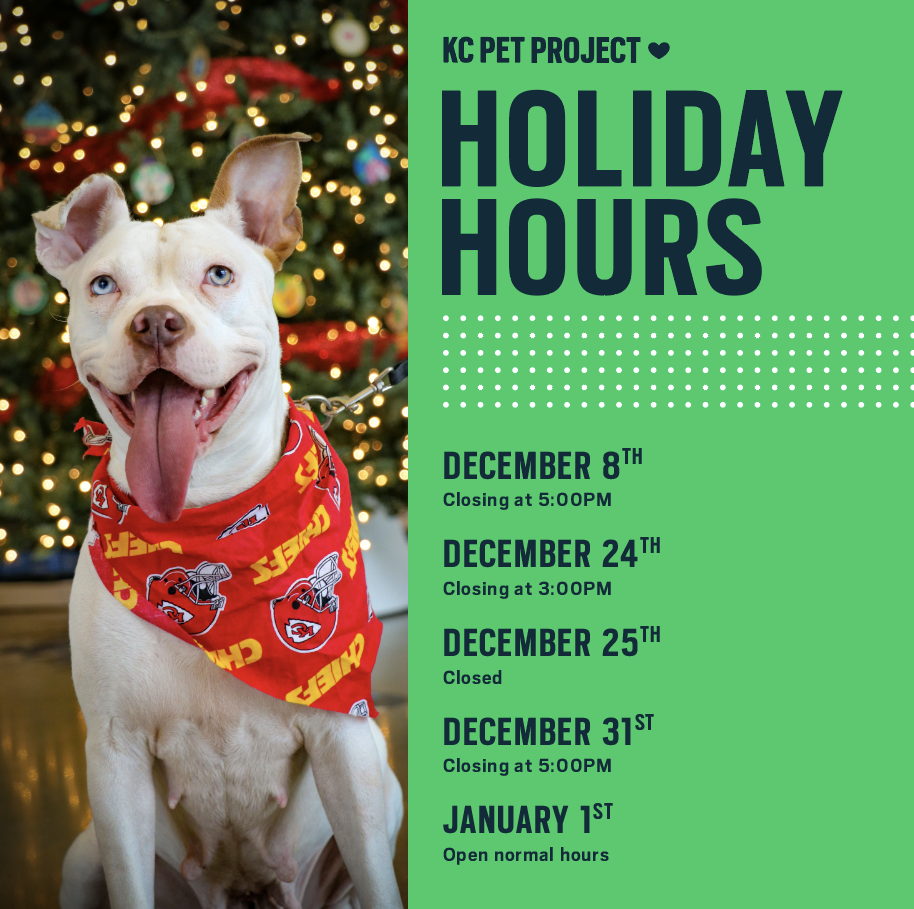 Holiday Hours apply to KC Pet Project at the KC Campus for Animal Care, Zona Rosa Adoption Center, and Petco Adoption Center at Overland Park.
---
Donate to Support the Pets of our Shelter
Gift the gift of hope to pets in need in Kansas City this holiday season. Your support of our organization and our pets helps us continue our lifesaving mission of caring for more than 13,000 pets this year.
As the pandemic continues, more and more families and pet owners are coming to us in need of help. When you donate, you're not only supporting our pets but you're helping people as well in our community.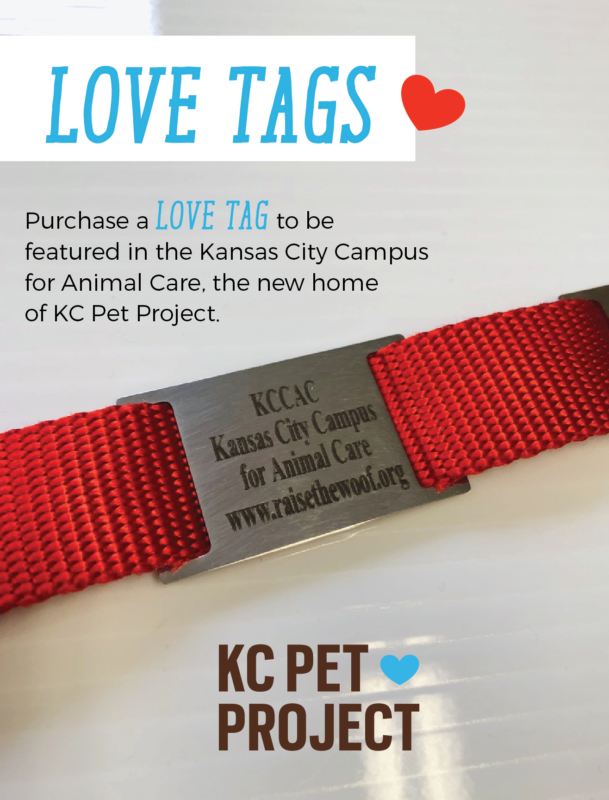 ---
Love Tags and Kennel Sponsorships
You have the opportunity to put your name on KC Pet Project's new home at the Kansas City Campus for Animal Care! Your Love Tag donation will go directly toward the cost of the lifesaving care of our pets.
These tags are permanently displayed at the KC Campus for Animal Care down the dog corridor.
---
By sponsoring a dog or cat kennel, you will be providing the much needed funds that will handle the care, feeding and basic medical expenses for the dog or cat in your sponsored space.
Your contributions will be recognized with a plaque on the space you are sponsoring, and your plaque will be on the kennel for one year. Sponsorships are now available at the Kansas City Campus for Animal Care, the Pet Adoption Center in Zona Rosa or the Petco Pet Adoption Center in Overland Park, KS.
---
Holiday Wish List
It takes a lot to care for more than 13,000 pets each year and you can help us care for them by purchasing items that are most-needed this holiday season. These include:
Canned food for dogs, cats, puppies, and kittens
Peanut butter
Hot dogs
Litter pans and litter scoops
Martingale collars
New and used leashes
and more
See our Holiday Wish List at the link below or purchase our most-needed items for the pets of our shelter directly from our Amazon Holiday Wish List or Chewy Wish List.
---
KCPP Giving Tree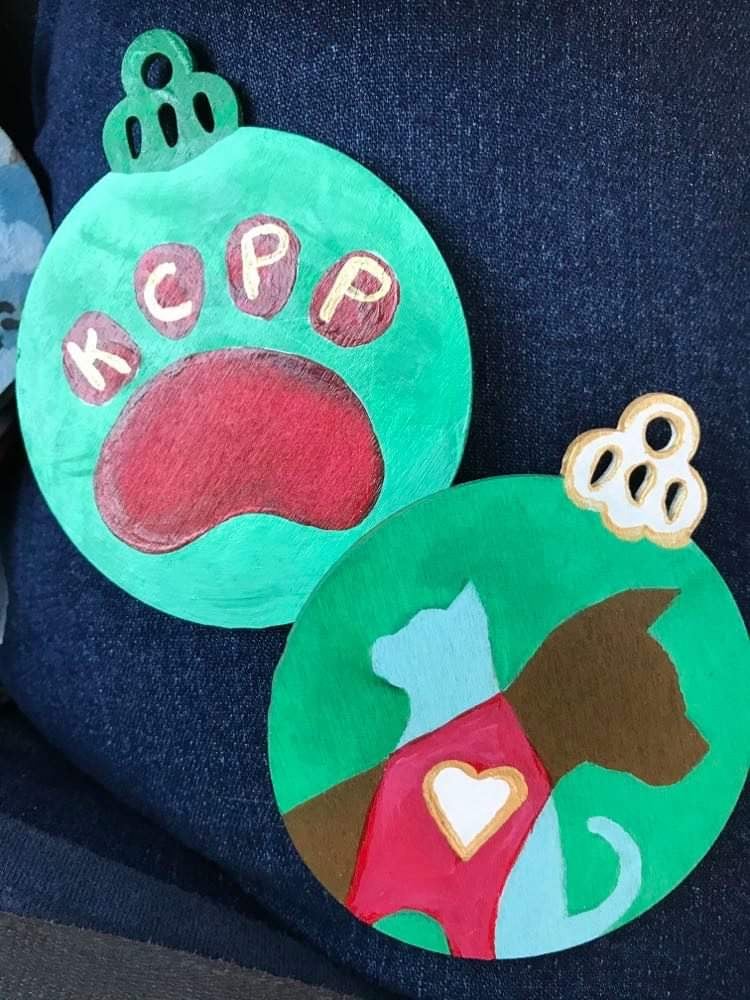 Purchase a Giving Tree Ornament from our holiday tree at the KC Campus for Animal Care. These ornaments can be purchased for a donation that supports the pets of our shelter in our adoption center and retail store.
The ornaments for the tree were decorated by the students of area Pre-School, Elementary and Middle Schools. The students were given a virtual tour and presentation about KC Pet Project and were provided with a simple blank ornament. Students were asked to then decorate the ornament in any way they felt best represented our pets and organization. Schools involved were Global Montessori Academy (some even done by toddlers), St. Peters School, Notre Dame de Sion Lower School, Visitation School and St Agnes School.