KC Pet Project Hires Chief of Animal Services
13 New Employees Hired for Animal Services Division and are Currently Training
Transition Period with City Animal Control Division Goes Through December 1, 2020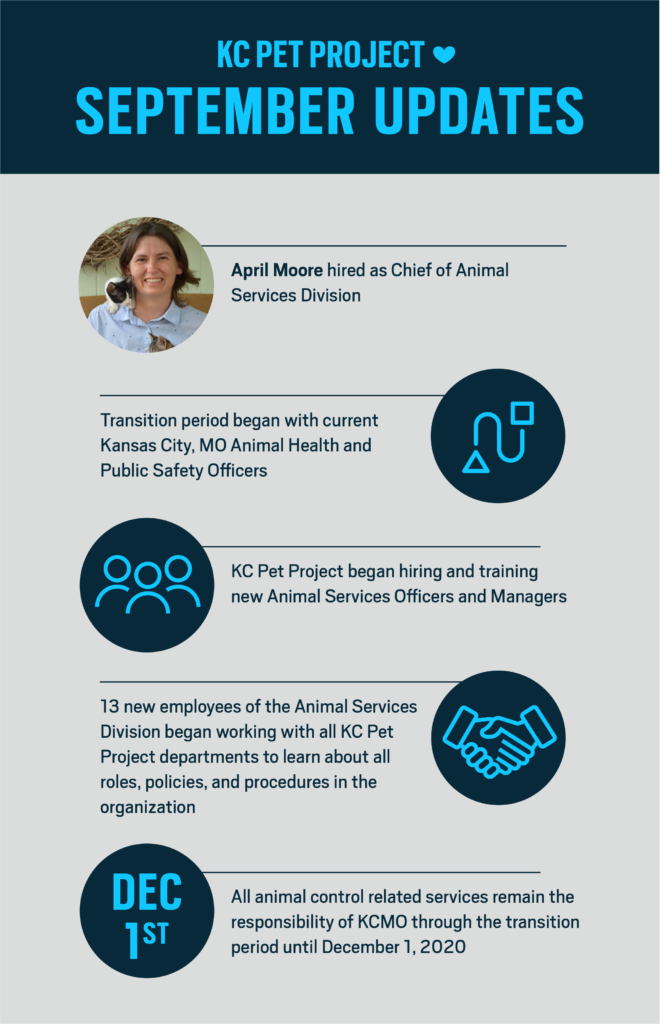 KC Pet Project is excited to announce they have hired an individual to lead their new Animal Services Department. April Moore will oversee the new division of the organization, set to take on the animal control contract for the City of Kansas City, MO on December 1, 2020.
April comes to Kansas City from Texas, where she served as the Animal Services Supervisor in Austin, which is the largest no-kill community in the United States, for more than twelve years. Austin, Texas receives more than 31,000 calls for service annually, and her team covered a 900 square mile jurisdiction for more than 1.2 million residents.
Austin Animal Services takes in 17,000 animals a year and the Animal Services Division in Austin was responsible for enforcement of local animal ordinances and regulations, rabies control, dangerous dogs and serious bodily injury investigations, humane wildlife mitigation and more. She is well known is the animal welfare industry and comes highly recommended by many industry professionals, including board members of the National Animal Care and Control Association.
April's career path demonstrates a strong commitment to public service, the enhancement of animal welfare and safe, humane communities through engagement-focused, community-centered animal protection programming. As a leader in No-Kill animal sheltering, April has a track record of empowering officers to connect to their community to strengthen relationships and build trust.
"We're excited for April to bring her experience and expertise to our new Animal Services Division of KC Pet Project," said Teresa Johnson, President/CEO of KC Pet Project. "She told us her proudest accomplishment was shepherding Austin's Animal Protection program through the city's no-kill journey – taking a mistrusted, disliked, punitive program with no blueprint for transition, to one she could confidently say keeps Austin no-kill by working to increase the community's capacity to care for pets, building trust, and connecting with diverse parts of the community who may otherwise have little to no access to resources or information. We are confident that April will bring that same level of service and accomplishment to Kansas City."
April also previously managed many of the daily operations of Austin Animal Center's Outreach and Education Teams. Neighborhood level program teams included program evaluation and needs assessments, SOP and policy development for the community, and Austin's Pet Resource Center teams promoted pet retention and decreased intake of pets, as well as increased return-to-owner rates.
April has a long list of national certifications and training credentials and has been a featured guest speaker every year since 2016 at every national animal welfare conference. Her first day with KC Pet Project will be October 1st.
Currently, KC Pet Project is working with the City of Kansas City, MO Animal Health and Public Safety Division during the transition phases of the contract. Animal Control services are still operated by the City of Kansas City at this time. KC Pet Project is still hiring for their new Animal Services Division, and career opportunities can be found at http://kcpetproject.org/careers.
KC Pet Project has already hired 11 officers, 2 managers, and the Chief of their new division, as well as an Animal Cruelty Investigator, and currently, all new team members are in training for this new city service. KC Pet Project is also working collaboratively with the City's 311 department, as well as emergency services including the Kansas City Police Department, to ensure communication methods for residents for this service are in place for the December 1, 2020 contract date. KC Pet Project is also establishing a new Pet Support Helpline for residents to to call for any animal-related questions that they have where Pet Support Specialists will be able to assist, answer questions, and provide support and resources when needed.
KC Pet Project is a proud pilot shelter of Human Animal Support Services (HASS) that is reimagining animal sheltering to build programs and support to keep people and their pets together and empower communities.