On July 21st, we are celebrating our 5th annual KC Pet Project Day, dedicated in 2017 by the Mayor and City Council of Kansas City, Missouri in honor of all the lives saved by KC Pet Projects dedicated staff and volunteers. Join us as we kick off this celebration by donating to KC Pet Project's Day of Giving on July 16th, 2021.
This year our goal is to raise $25,000 dedicated to keeping pet families in our community together through our Keep 'Em Together, KC program that began as a response to the Covid 19 pandemic.
Keep 'Em Together, KC is an initiative that focuses on building community partnerships and expanding services to help address the systemic roots of resource inequity in Kansas City. We partner with our community and pet owners to help provide several resources to support a whole family model to increase pet retention and deter unnecessary pet surrender. Your donation will directly impact pet families and their desire to stay together and will impact people and their pets like Cheezcake and her mom, Ryan.
Cheezcake and her mom, Ryan, have had a history of saving each other.
Ryan was working as a crossing guard about 11 years ago when she witnessed a puppy run into the middle of the road. Ryan sprinted to stop traffic so the puppy would not get hit by oncoming vehicles. The puppy was just a few weeks old, so Ryan asked pedestrians if they recognized the pup in hopes to find an owner, but no owner came forward and no one was able to give Ryan any information about where the lone puppy had come from. So Cheezcake went home with Ryan and has been her constant companion for 11 years.
Ryan stepped in for Cheezcake the first day she laid eyes on her, and recently when Cheez suffered several gunshot wounds inflicted by someone walking by their yard.
The family rushed Cheez to their veterinarian's office where they were able to stabilize her and take x-rays, but unable to provide any further treatment due to the family's financial insecurity. The lifesaving treatment that Cheez needed seemed beyond reach for them. The family jumped into action, working tirelessly to try to find anyone that could help them get Cheezcake the care she so desperately needed. They reached out to different rescues and animal welfare organizations who were unable to help, but were able to put in a call to KC Pet Project in hopes to connect the family with our Keep 'Em Together, KC program.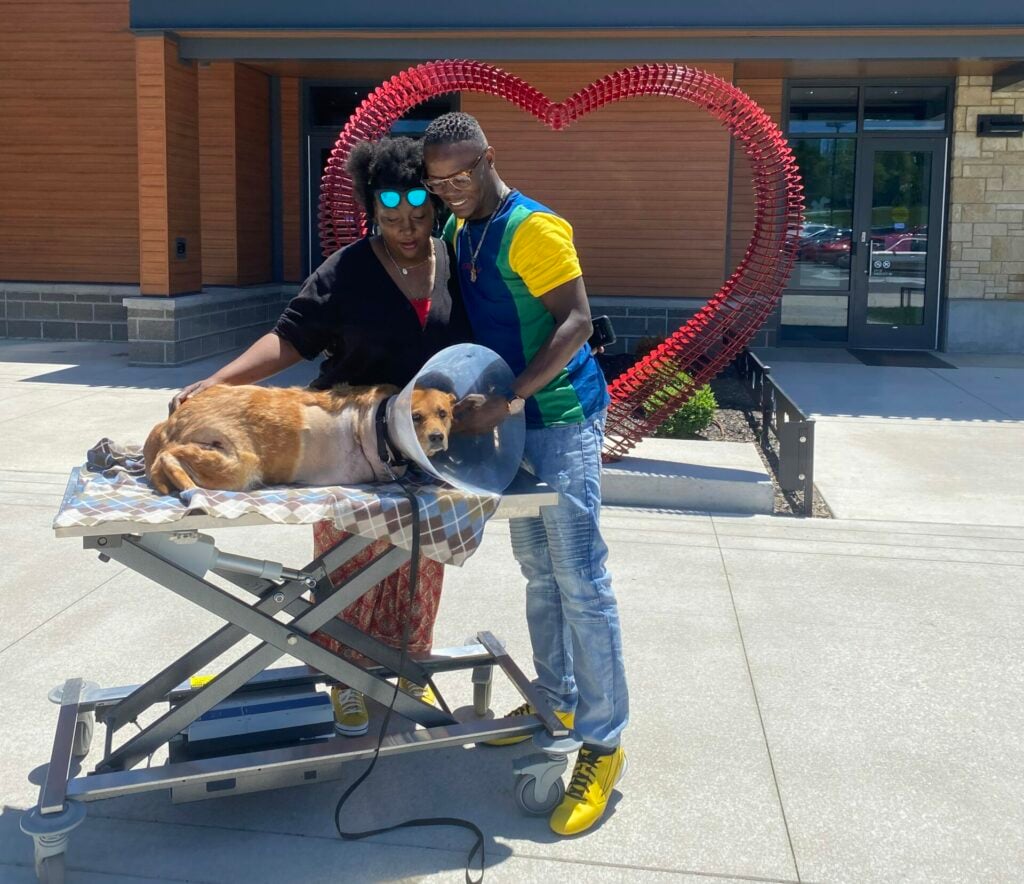 Our team assured Ryan (and Cheez) that we would do everything we could to keep their family together. When they arrived to the shelter, Ryan was so distraught she could barely speak, but we were able to make out how deeply she and her family cared for Cheezcake. Cheez spent 5 days with our veterinary clinic and pet support team. She was treated for three gunshot wounds, received over 60 stitches, and received a front leg amputation. Both Cheez, and her family, were anxious for their four-legged family member to return home.
When it came time for Cheez to return home to continue to heal from her recent surgeries, her family came quickly to retrieve her. Our whole team shared in their eagerness, excitement and anticipation. When they arrived, Ryan was overwhelmed with emotion. The moment that Cheez realized that Ryan had come to her rescue once again, she immediately transformed into a wagging and wiggly ball of uncontrollable kisses for her mom–a completely different dog than what we had seen while in our care. There wasn't a dry eye in the shelter after seeing how much love was present in this pet family.
Ryan and Cheezcake's powerful reunification is one that will never be forgotten, and their story is one that illustrates just how important programs like Keep 'Em Together, KC are to our community. Read their full story here.
Please donate to support KC Pet Project on our Day of Giving! Or start your own fundraising page by selecting the donate button above.