2013 in Review
2013 was a very fun, challenging and successful year for KC Pet Project.
In late 2012, KC Pet Project opened a new, Satellite Adoption Center at Zona Rosa Shopping Center. The Adoption Center has been a huge success for us, and has helped us extend our presence to the hundreds of thousands of Kansas Citians North of the River.
In April, KCPP hosted Aimee Sadler and her "Playing for Life" program. It was a very educational experience for all of us.
We've stuck with the Playing for Life dog playgroup program and it has been amazing for the shelter and for the dogs. We have a very old, small shelter and the dogs are kept in very tight quarters. Prior to the playgroup program our dogs suffered from very high arousal and it made the kennel area very challenging for staff, volunteers and adopters.
However, now the stress level has definitely improved. Dogs are more adoptable. Our staff knows more about the dogs' behavior than before, and the dogs are getting much-needed exercise and socialization.
In July, we officially announced 12 consecutive months of having a live release rate of 90% or higher, making KC Pet Project the largest No Kill shelter in Kansas City, MO and the 4th largest open-admission, No Kill shelter in the United States. This was an exciting time for our organization — and what we were striving for when we took over the shelter in January 2012.
In October, KC Pet Project was invited to be invited to speak at the Best Friends No More Homeless Pets Conference in Jacksonville about all the great things that are happening here in Kansas City.. It is amazing to be in one place with so many great people who are doing so many great things in their communities. Very inspiring.
Later in October, we participated in the ASPCA Mega Match-A-Thon. For the event we adopted out 228 pets in 3 days — that allowed us to get most of the dogs and cats in the shelter adopted.
The year was definitely a successful one.
In total, we completed 4,516 total adoptions; 2883 dogs, 1,633 cats. We also adopted out an additional 93 pigs, goats, chickens and "others". This was a 50% increase in adoptions vs 2012 (1,503 total).
Much of this success is due to our satellite adoption center at Zona Rosa where we did more than 1600 total adoptions this year.
We returned 1,062 dogs and cats to owners (1,041 dogs, 21 cats). We also transferred another 792 dogs and 356 cats to other shelters or rescue organizations.
In total, we created 6,911 total positive outcomes for dogs and cats on the year.
We had a total intake of dogs and cats of 8,179 (5479 dogs, 2700 cats). This was a 20% increase over where we were in 2012 (1333 total animals!).
This has been a remarkable turnaround for a shelter than as recently as 2008 was killing more than 60% of the animals that came into it.  Here is the trendline: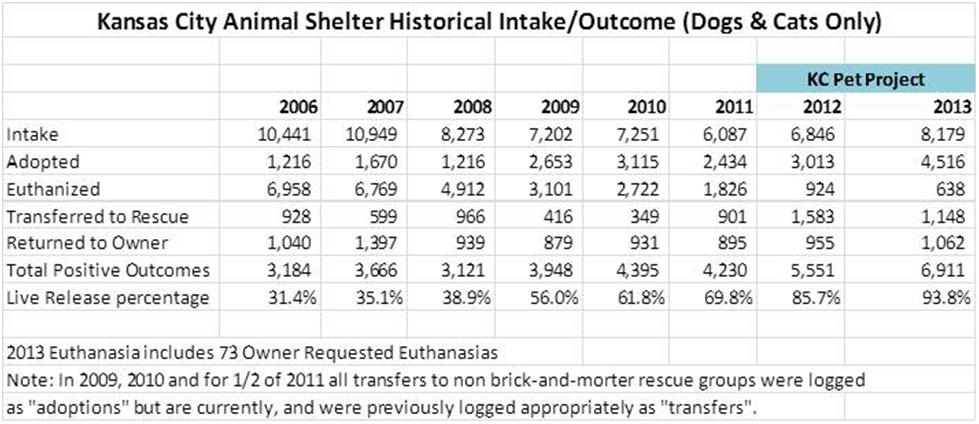 Thanks to everyone who helped make 2013 a successful year for KC Pet Project. It is through your donations, volunteer time, adoptions, and telling others about our organization that has helped create a successful organization.
We have a lot of exciting plans for 2014 that we look forward to sharing with you soon.