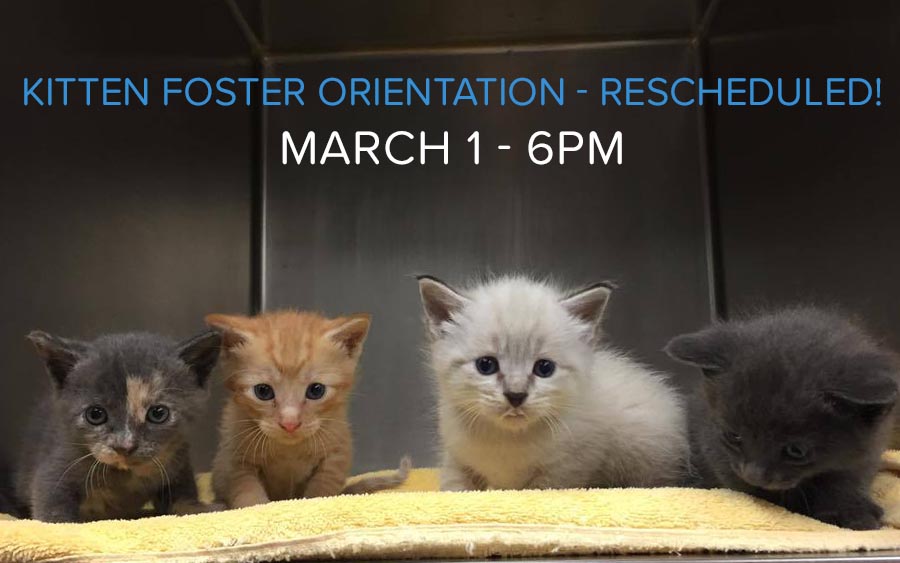 Kitten Season is on it's way – rescheduled date!
Kitten season is right around the corner and the need for loving foster homes in imminent. During kitten season the shelter will receive a HUGE influx of kittens, often multiple litters per day.
Foster homes are critical during this time because the kittens will need personalized attention that cannot be adequately provided in the shelter environment. KC Pet Project relies on foster caregivers to provide a safe and healthy environment for the kittens to grow and learn.
Thinking of opening your home to kittens this season? Learn more about the types of opportunities available, with commitments lasting from 2 to 8 weeks long. This training will provide a foundation for successful fostering this season.
Topics include:
– Pregnant moms
– Nursing moms
– Bottle babies
– Kittens, ages 0-3 weeks (feeding and health)
– Kittens, ages 3-6 weeks (feeding, socialization, health)
– Kittens, ages 6-8 weeks (feeding and socialization)
– Common medical questions
– Q&A
Thursday, March 1st – new date!
6:00pm
This orientation will be held at KC Pet Project's Canine Resource Center: 6425 Stadium Drive, Kansas City, MO 64129.