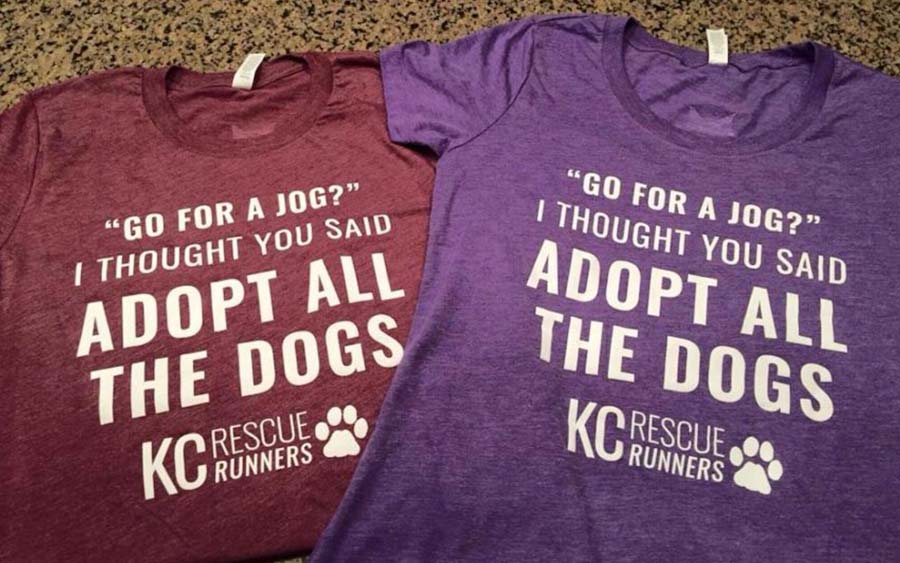 KC Pet Project's Gift Guide
Are you looking for a fun, unique gift for a loved one? All of these gifts are great and you the chance to give back to help the pets of KC Pet Project.
*New Item* KC Pet Project Running Shirts
Super soft shirt that speaks the truth. Proceeds support the pets of KC Pet Project! Shirts are a polyester/cotton blend. Available in Gray in the "I Hate Running Shirts". Available in Gray in the "Go for a Jog" Unisex and Gray or Purple in Ladies sizes at our three adoption locations.
Online Orders Coming Soon!
KC Clothing Company T-Shirt
Super soft shirt that shows your support of adopting local pets! This shirt is currently available at KC Clothing Company at 2020 Baltimore or on their online store.
Online Orders Coming Soon!
TIVOL Doggie Tags
Cushion-shaped sterling silver doggie tag with a satin finish on a textured background, stamped with "TIVOL," with one round diamond set within the 'O.'
These limited-edition doggie tags have been specially designed for man's best friend by TIVOL in partnership with KC Pet Project. The price of each tag includes the engraving of your pet's first name and phone number.* For each dog tag purchased, TIVOL will donate $20 
toward KC Pet Project. Purchase yours online today by clicking here or visit their Country Club Plaza or Hawthorne Plaza locations.
Raygun Rescue Animal Swag
Show your support of your rescue dog or cat by getting these great new items from Raygun. Proceeds support the pets at our shelter through the end of December.
Get them at their store or online today.
Designed by RAYGUN
Screenprinted by RAYGUN
Stop by the RAYGUN store at 1803 Baltimore today.
KC Rescue Roast Roasterie Coffee
Did you know KC Pet Project has our own Roasterie Blend coffee? You can purchase it at all three of our locations or on the Roasterie website. KC Rescue Roast blend comes in Ground, French Press, or Whole Bean (only sold in Ground at our locations).
Amazon Wish List
Purchase a gift to help the pets of KC Pet Project. Check out our Amazon Wish List for information about items needed for all locations!
Don't forget, KC Pet Project is an Amazon Smile recipient so select our shelter to receive a portion back of your purchase.
Kennel Sponsorship
 Do you want to be involved with the KC Pet Project and help the animals in our care but don't have time to volunteer or the space to adopt a new family member? Is your company looking for a rewarding way to give back to the community? Then the Kennel Sponsorship Program is for you!
By sponsoring a dog or cat kennel, you will be providing the much needed funds that will handle the care, feeding and basic medical expenses for the dog or cat in your sponsored space.
KC Pet Project Merch
Stop by any of our three locations to check out our KC Pet Project apparel and other fun items to show your support of our pets. We have tshirts, leashes, bowls, etc to support our pets.